UNLIMITED DESIGN OPPORTUNITY :-
After more than a half century of steady, substantial growth in acceptance and popularity, modular hollow concrete block is an established building material . It is used in more than 2/3 of the total volume of all masonry walls. Yet many architects, engineers and builders are not fully aware of all its benefits and advantages .
The structural attributes of concrete block are well - known. Strength, Durability. Fire-resistance. Thermal insulation. Sound absorption. Its modular dimensioning makes it easy for design and construction. Its economy and ease of installation are a welcome answer to rising costs.
More and more imaginative designers are now taking advantage of the wide and increasing variety of shapes, sizes, laying patterns and surface contours (both conventional and decorative ) which provide almost unlimited design opportunities.
Bharat Spun Pipe & Construction Co. is a leader of the concrete block industry, offers over 46 years of experience to offers a wide range of concrete masonry units & other Precast concrete products. We Bharat Spun Pipe & Construction Company is manufacturing the concrete hollow , solid, interlocking paving blocks by Columbia USA fully automatic concrete block plant with automatic batching and mixing plant & curing system.
Modern concrete masonry units offer a broad spectrum of sizes, shapes, surface contours and laying patterns. Creative opportunities abound for enhancing buildings of all types and sizes: single - story or high rise, from residences, colleges and schools to commercial, institutional and industrial buildings.
As the industry has matured, standards have risen steadily to assure unquestioned performance of both exterior and interior units. Exterior units are made of dense aggregates such as sand - gravel. It is heavy, water-resident, and when properly made, exceeds minimums for load and tensile strength by 100%. For interior use. Units of lightweight aggregates are advantageous and economical, is easy to handle, readily colored, strong and possess excellent insulating and sound absorbing qualities. Whatever the type of unit, Bharat Spun Pipe & Construction Co. strive constantly to maintain (and improve where possible) the quality of concrete block. We carefully possible) the quality of concrete block. We carefully control aggregate size, proportions and cleanliness, the amount of water and cement in the mix, mixing time and thoroughness, curing and storing. No step is overlooked, at any phase of production, to assure the highest possible quality in every unit produced.
ADVANTAGES OF USING CONCRETE HOLLOW BLOCKS
REDUCTION IN DEAD LOAD :- Hollow block weight approx. 1000 to 1400 kg. Per Cum. Including mortar whereas brick masonry has approx. 2100 kg. Per Sqm. Including mortar.

REDUCED AIR CONDITIONING LOAD :- Approx. 50% saving.

NO SALT PETER OR LEACHING:- Reduction in maintenance.

INCREASED CARPET AREA :- Due to smaller in size.

FASTER CONSTRUCTION :- Easy to work with bigger in size.

ASSURED QUALITY :- Fully automatic block plant with concrete batching plant & steam curing system.

BETTER SOUND ABSORPTION :- Being hollow in nature

REDUCED THICKNESS OF PLASTER :- Due to size accuracy & less cement consumption due to less joints.

LOAD BEARING WALLS :- Due to higher strength of blocks.

RECOMMENDED FOR EARTH QUAKE RESISTANCE.

LESS WATER ABSORPTION :- Approx. 3 to 4 %

ENVIRONMENTAL ECO-FRIENDLY

REDUCE IN TOTAL COST OF PROJECT :- Being less dead load of walls.
TECHNICAL DATA :- Our products comply with requirements specified in the relevant Inida Standards Viz. IS :2185 (Part I)- 1979. Specification for Concrete Masonry Units, Hollow and Solid Concrete Block and we are fully backed by M/s Columbia Machine Inc. USA who are one of the leader in this field.
TYPE OF BLOCKS :-
A Hollow ( Open & Close cavity) Blocks
B Solid Blocks
NOMINAL DIMENSIONS OF CONCRETE BLOCKS
| | | |
| --- | --- | --- |
| Length | : | 400, 500 or 600 mm |
| Height | : | 200 or 100 mm |
| Width | : | 50, 75, 100, 150, 200, 250 or 300 mm |
Actual dimensions of height and length shall be 10 mm less than the nominal dimensions being thickness of mortar joint.
TOLERANCES:-
| | | |
| --- | --- | --- |
| Length | : | 5 mm |
| Height | : | 3 mm |
| Width | : | 3 mm |
COMPRESSIVE STRENGTH:-
| | |
| --- | --- |
| Hollow Block | Compressive Strength in Kg./Cm2 |
| Type I | 60 Kg./Cm2 |
| Type II | 70 kg./Cm2 |
| Type III | Above 70 Kg./Cm2 as per client's requirement |
| | |
| --- | --- |
| Solid Block | Compressive Strength in Kg./Cm2 |
| Type I | 100 Kg./Cm2 |
| Type II | 150 Kg./Cm2 |
| Type III | Above 150 Kg./Cm2 |
WATER ABSORPTION :- As per relevant IS standards
TESTING FACILITIES:-
A complete testing laboratory for testing of hollow block, solid block and interlocking paving block confirming to relevant standards installed at our block plant.
STANDARD UNITS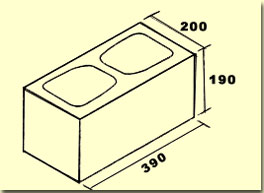 Hollow Block 400 X 200 X 200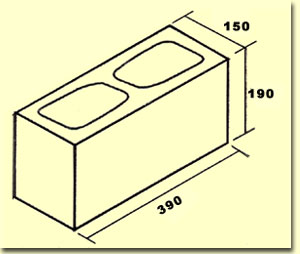 Hollow Block 400X 200X 150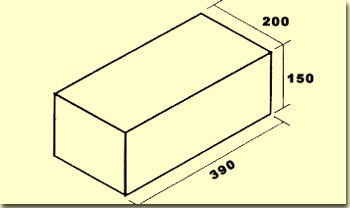 Solid Block 400 X 160 X 200
CORNER BLOCKS
PARTITION UNITS
Hollow Block 400 X 200 X 95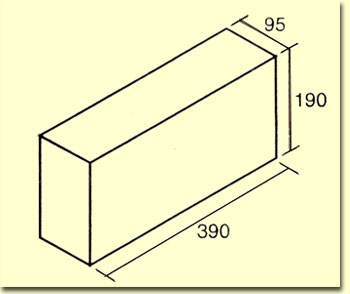 Solid Block 400 X 200 X 95
LINTEL BLOCKS :-
| | |
| --- | --- |
| A unit designed for use above window and door openings as well as to form a continuous bond around a building to forestall cracking due to shrinkage or temperature changes | |
PILASTER UNITS
| | |
| --- | --- |
| Type A :- To stabilize load- bearing walls and work with control joints. Makes ideal pilaster, roof truss or I-beam support. Block is made in identical halves for ease in handling, and in placing around pre installed rebars. Inside opening is 300 mm square. 400 mm square pilaster block provides 200 mm bond for rigidity Used below grade where contraction is minimal, and also in earthquake and hurricane regions. | |
| | Type B :- A pilaster and control joint block. A good wall stabilizer used either with or without reinforced concrete in core. Off-set all on one side. Vertical mastic filled seam allows for contraction. Modular dimension of wall maintained . |
CONCRETE BRICK :-
Concrete brick can be used for many types of construction, residential and commercial, interior and exterior applications.

Whatever you may be building whether it is a large project such as a home, warehouse, church, apartment, or office compels; or a smaller project like a fireplace or privacy fence consider using concrete brick .

Concrete brick are available in all traditional styles and sizes; in solid, cored , or fogged configurations; or custom made to your own specifications. With so many types to choose from, you can meet almost any structural need. They are also available in a wide variety of colors and textures. With so great a choice, you have unlimited architectural effects at your command.

Concrete brick are one of the most durable building materials. They preserve their strength and beauty in the worst of climates. They preserve their strength and beauty in the worst of climates. They give truly outstanding protection against fire - even significant additional protection for steel columns.

Concrete brick insulate building interiors against noise and cold or heat. This protection is inherent in the brick themselves, it may save the entire cost of special soundproofing or thermal insulation.

Finally, concrete brick are economical. In a new building they can save on insulation costs, and often on construction costs as well. Later on, they can reduce maintenance costs. Economy is always a sound reason to specify concrete brick. It could be the best reason of all on your next building project.

PLAIN




FROG
SEISMIC ZONE CONSTRUCTION :-
Many areas of the world are located in high seismic zones. For these regions, reinforced masonry construction is the answer. With the use of reinforcing steel and grout, standard concrete masonry units can form a structure that can withstand some of the mightiest forces of the world. This type of construction has survived earthquakes, such as the ones in california, New Zealand, and Japan, Reinforced masonry is also used in high rise construction in non - seismic zones, such a motels and office buildings.
HIGH RISE MASONRY STRUCTURE :-
| | |
| --- | --- |
| Using the concept o load bearing - wall construction, architects are designing concrete masonry structures 18 stories high and higher : Load bearing - wall construction allows the combined action between the concrete floor and the masonry bearing walls to transfer vertical loads to the foundation. There are two main reasons for the popularity of this method of construction: (a) economy , (b) savings of constructions time. By the use of structural masonry components, such as bond beams, floor systems, high strength block etc.., high rise load bearing masonry structure have become a reality. More information on load bearing masonry is available through the National concrete Masonry Association, as well as other organizations. | |
CONCRETE INTERLOCKING PAVING BLOCK
Advantage / Benefits of interlocking paving Blocks
The solid interlocking type has the unique ability to transfer loads and stresses laterally by means of an arching of bridging action between units. Spreading the load over a large area reduces the stress there by allowing heavier loads and traffic over sub - bases which normally would require concrete that is heavily reinforced with steel.
The solid interlocking units are available in a variety of colors and patterns, thereby permitting interesting designs in paved areas which are usually plain and dull when paved with asphalt or concrete.
In addition to breaking the monotony of the flat paved area, colored concrete paving stone can be used to permanently mark such things as parking bays, traffic lanes and crosswalks.
Concrete paving stone offer an ecological solution to man's increasing concern for his environment - the problem of putting the moisture from rainfall back into earth rather than let it run off as waster. This is especially true when the open type stone is used .
As shown in the table (right), solid interlocking paving stone are available in different thicknesses ranging from 60 mm to 100 mm. The thicker units are used for heavier service, streets, industrial floors, etc.